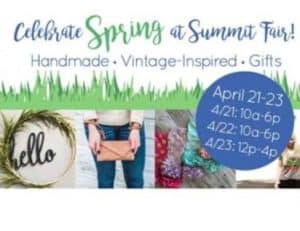 This Friday through Sunday, April 21-23, 2017, Summit Fair in Lee's Summit is hosting a Spring Handmade Chick Event (in the old I.O. Metro furniture store space). Admission is $5 per day for adults; $8 for a weekend pass. Kids 12 and under are FREE. If you buy your tickets online, you'll get a FREE ticket to this summer's Just For Her Event, which will be held June 23-25 at the Overland Park Convention Center. The FREE ticket will be emailed to you by June 1.
This event will feature nearly 60 vendors showcasing their handmade spring products.
Hours are from 10:00 a.m. to 6:00 p.m. on Friday and Saturday and from noon to 4:00 p.m. on Sunday.
Summit Fair is located at 910 NW Blue Parkway.