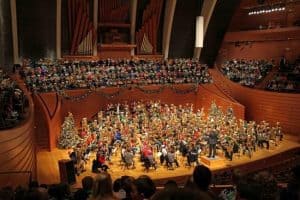 Today, December 4, 2017 and Friday, December 8, 2017, the Kansas City Symphony presents a TubaChristmas concert at the Kauffman Center for the Performing Arts. Admission is FREE.
TubaChristmas is an incredible holiday tradition that started 44 years ago as a way for a musician to honor his beloved tuba teacher. TubaChristmas concerts are performed annually worldwide. We are incredibly fortunate to enjoy the holiday music of over 300 tubas here in Kansas City! The concert begins at noon.
The Kauffman Center for the Performing Arts is located at 1601 Broadway Boulevard in Kansas City, Missouri.
Kauffman Center for the Performing Arts