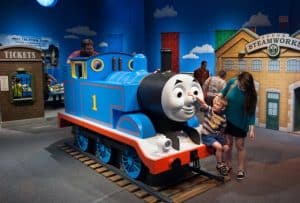 From May 27 through September 10, 2017, Crown Center is putting on a new Thomas & Friends: Explore the Rails Exhibit for kids. Admission is FREE.
Here's a blurb about the exhibit from the Crown Center website:
"All aboard for fun learning adventures with Thomas The Tank Engine as you help him be a "Really Useful Engine." Explore the sights and sounds of the Island of Sodor: visit Knapford Station and the Sodor Steamworks, climb inside Thomas' cab, fix Percy's wobble wheels, pull levers for train noises, and race trains along a giant track. This free exhibit is an imaginative adventure for the whole family!"
Hours are from 10:00 a.m. to 6:00 p.m. Monday through Friday, from 10:00 a.m. to 7:00 p.m. on Saturday, and from 11:00 a.m. to 6:00 p.m. on Sunday.
Crown Center is located at 2450 Grand Boulevard in Kansas City, Missouri.