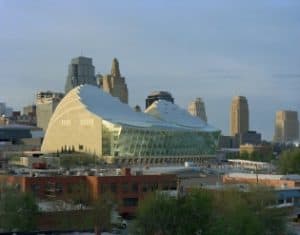 The Kauffman Center for the Performing Arts is holding an open house this Sunday, September 18, 2011 from 12:00 to 5:00 p.m. Admission is free. A number of Kansas City performing artists will be featured throughout the day.
Click here for the performance schedule.
In addition to the entertainment, there will also be food truck vendors, activities, and facility tours.
Tickets are not required and registration is optional, but if you register for the event, they'll send you updates about the program, including performance schedule changes and parking instructions (this map will also help with parking). Anyone who registers will be entered into a drawing to win two tickets to the Theater League's production of Million Dollar Quartet at the Kauffman Center.
The Kauffman Center for the Performing Arts is located at 1601 Broadway in Kansas City, Missouri.