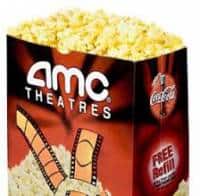 Pop! Pop! Pop! This deal is definitely poppin' for movie lovers. AMC Theatres is celebrating the debut of its new loyalty program AMC Stubs Insider by giving away FREE popcorn to members. On July 31, 2016, all AMC Stubs members, existing and new, can receive one FREE large popcorn at participating locations. Not yet a member? Just sign up at the box office — it's now FREE to join. For more information, including details about how to earn more rewards and faster with its new top-tier program AMC Stubs Premiere, click here. To ensure it's ready for FREE Popcorn Day, AMC Theatres plans to pop about 50 tons of popcorn — that's approximately 325 million kernels of popcorn. There are still plenty of summer blockbusters on the big screen, so now's the perfect time for bargain hunters to go to the movies.
Find more restaurant deals and coupons here.
Copyright Living on the Cheap. The post Free large popcorn at AMC Theatres appeared first on Living On The Cheap.