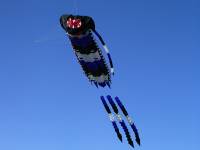 This Saturday, April 16, 2016, the Kansas City Kite Club is holding its annual Flights of Fancy Kite Festival. Admission is free.
The festival includes mega kites, power kites, stunt kites, and the world's largest windsock – three stories high and 200 feet long. For kids there's an inflatable maze, face painting, a balloon artist, and a candy drop. Food and drinks will be available for purchase. Free MCC anniversary kites will be available for children ages 10 and under, while supplies last. There will also be a  Classic Car Show in the Cultural Arts Center parking lot.
The festival, which runs from 10:00 a.m. to 5:00 p.m., is on the grounds of the MCC Longview campus at 500 SW Longview Rd. in Lee's Summit, Missouri.