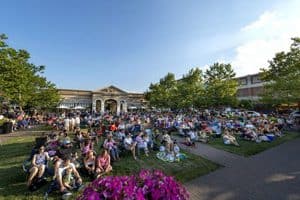 Every Thursday June 8-August 10, 2017, North Kansas City Hospital is putting on a Jazz on the Square concert series in Town Square at Zona Rosa. Admission is FREE.
The concerts run from 6:30 to 8:30 p.m. Here's the schedule:
June
June 8: Grand Marquis
June 15: Valentine & the Ticklers
June 22: Heat Index
June 29: Candace Evans Trio
July
July 6: Sons of Brasil
July 13: A La Mode
July 20: Lori Tucker Ensemble
July 27: Joe Cartwright Latin Jazz Quartet
August
August 3: Anna Lee & the Lucky So n Sos
August 10: Dave Panico Trio
Zona Rosa is located at the northwest corner of I-29 and Barry Road in Kansas City, Missouri.