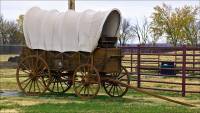 On Saturday, August 16, 2014, the National Frontier Trails Museum is holding a Family Fun Day. Admission is free for the outdoor activities. There is a fee if you want to tour the museum ($6 for adults; $3 for kids ages 6-17; free for kids 5 and under). A covered wagon tour is included in your admission fee.
This event, which runs from 10:00 a.m. to 4:00 p.m., is all about the American Indian Culture. It includes information about the life skills of American Indians, dancers, flute performances, crafts, games, and demonstrations.
The National Frontier Trails Museum is located at 318 W. Pacific Avenue in Independence, Missouri.