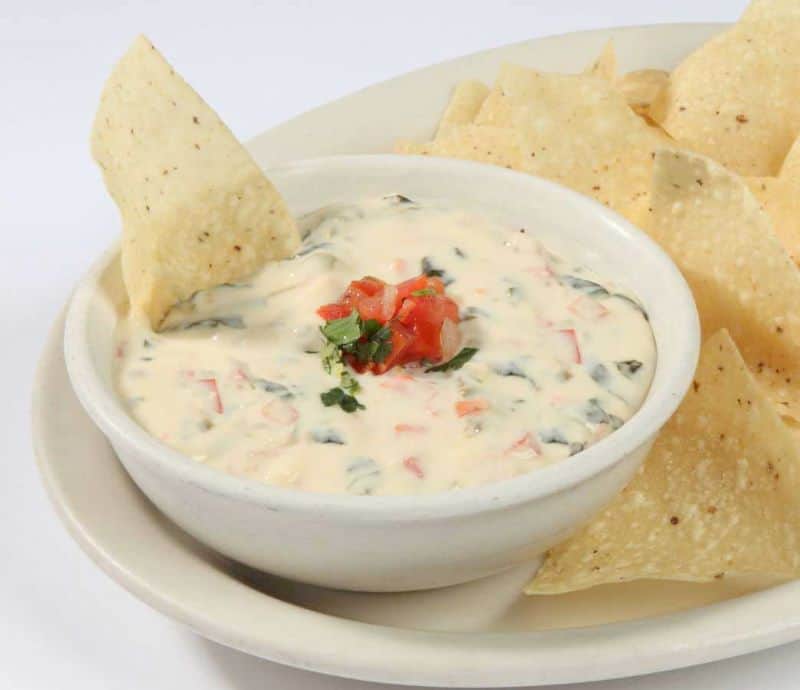 Here's a deal that'll get you a FREE order of espinaca queso dip with the purchase of any dinner entrée at Jose Pepper's Mexican Restaurant.
Click here for the FREE espinaca coupon. This is a $3.99 value.
The coupon expires on Dec. 31, 2019. You have to print to the coupon. Coupons from a mobile device are not accepted. The FREE espinaca coupon is not valid with happy hour items or ala carte orders.
Jose Pepper's is well known for their espinaca queso dip. The mixture of jalapeno cheese, onion, tomatoes and spinach is served warm with tortilla chips.
Jose Pepper's Specials
Jose Pepper's hosts happy hour from 3 p.m. to 6 p.m. every Sunday through Friday. They are vague about their drink specials but offer a variety of dine-in food specials starting at $1.99 up to $5.99.
There is a 2-for-$8 house margarita special on their menu that appears to be available all day, every day. Next time we're thirsty, we'll confirm for you. Until then, check before you head there specifically for this offer of 14 ounces served frozen or on the rocks.
Jose Pepper's Location in Kansas City
Missouri
Belton
1100 East North Avenue
Belton, MO 64012
816-331-4949
Briarcliff
4125 N. Mulberry Dr.
Kansas City, MO 64116
816-382-3898
Lee's Summit
1667 NE Douglas
Lee's Summit, MO 64086
816-246-9555
Liberty
217 S Stewart Rd
Liberty, MO 64068
816-415-3155
Kansas
The Legends
1851 Village West Parkway, Suite K-131
Kansas City, KS 64111
913-328-0770
Mission
6870 Johnson Dr.
Mission, KS 66202
913-384-7360
Olathe
13770 South Blackbob
Olathe, KS 66062
913-393-0444
Overland Park #1
10316 Metcalf
Overland Park, KS 66212
913-341-5673
Overland Park #2
14373 Metcalf
Overland Park, KS 66223
913-681-9750
Shawnee
16605 Midland
Shawnee, KS 66217
913-631-1011
Topeka
1425 SW Wanamaker Rd
Topeka, KS 66604
785-783-8100