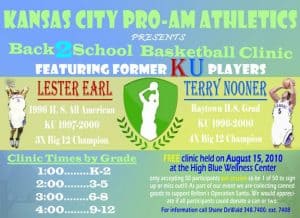 On Sunday, August 15, 2010, from 1:00 to 4:00 p.m., Kansas City Pro-Am Athletics is sponsoring a free basketball clinic for kids at the Belton High Blue Wellness Center (Belton Community Center).
This event features former KU players Lester Earl and Terry Nooner.
Here are the clinic times by grade:
K-2: 1:00
3-5: 2:00
6-8: 3:00
9-12: 4:00
They're only accepting 50 participants per session, so your child must be registered in order to participate. To reserve a spot for your child, e-mail Shane Dewald at sdewald@beltonparks.org.
Although this event is free, they're collecting canned goods to support Belton's Operation Santa if you wish to donate.
For more information, call Shane Dewald at 816-348-7400, ext. 7408.
High Blue Wellness Center is located at 16400 North Mullen Road in Belton, Missouri.