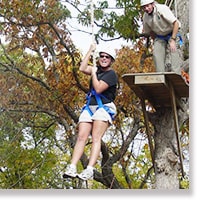 This Saturday, April 30, 2011 from 9:00 a.m. to 3:00 p.m., TimberRidge Adventure Center is holding its annual open house. Admission is free.
This event includes kayaking, pedal boating, hiking, BB gun shooting, archery, and catch and release fishing (ages 16 and over must have a valid fishing license to fish). Kids must be at least 8 years old to participate in the BB gun shooting and the archery.
There will also be a Family Fun Treasure Hunt from 11:00 a.m. to 2:00 p.m.
The TimberRidge Adventure Center is located at 12300 S. Homestead Lane in Olathe, Kansas.