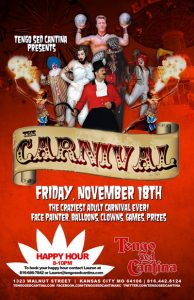 Tengo sed Cantina is holding an adult carnival this Friday, November 18, 2011. Admission is free if you arrive before 10:00 p.m. You must be 21+ to attend.
This event includes face painting, balloons, clowns, games, prizes, and more. They'll also have Happy Hour specials from 8:00 to 10:00 p.m.
The party starts at 8:00 p.m.
Tengo sed Cantina is located at 1323 Walnut Street in the Kansas City Power & Light District.