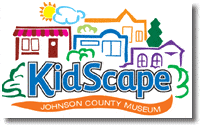 KidScape is an ongoing exhibit at the Johnson County Museum for kids ages 3-9. Admission is free.
Designed to look like a suburban streetscape, KidScape "immerses children into a colorful, exciting environment where they can learn about community through role-playing and meet some of Johnson County's most talented citizens – past and present."
The exhibit includes a bookstore, park, City Hall, hospital, fashion boutique and theater.
The Johnson County Museum is located at 6305 Lackman Road in Shawnee, Kansas.