Santa and his elves are riding into Union Station for a five-day visit December 18-22, 2019 on the Kansas City Southern Holiday Express.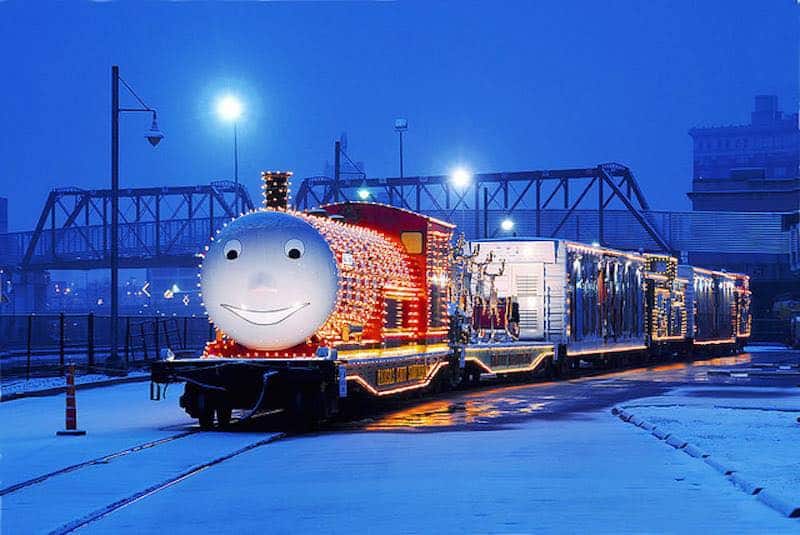 Admission is FREE, but reservations are strongly encouraged. These can be made available online at boxoffice.unionstation.org.
The Holiday Express includes a smiling tank car (Rudy); a flatcar carrying Santa's sleigh, reindeer and a miniature village; a gingerbread boxcar; the elves' workshop; the reindeer stable; and a little red caboose. Kids will get to visit with Santa, and you'll get to tour The Holiday Express.
Strollers will not be allowed on board the train. Stroller parking will be available.
Who doesn't love Union Station at the holidays? Check out all the holiday fun, activities and bargains at our post Holiday Activities at Union Station in Kansas City.
Kansas City Holiday Express Hours
Dec. 18: 2 p.m. to 7:30 p.m.
Dec. 19: 11 a.m. to 6 p.m.
Dec. 20: 11 a.m. to 5 p.m. (a special session for Union Station Member is from 6 p.m. to 8 p.m.)
Dec. 21 and 22: 10 a.m. to 7:30 p.m.
The line for the Kansas City Holiday Express closes 30 minutes before the close of the day.
Holiday Model Rail Exhibit at Union Station
If you love trains don't miss the holiday model rail exhibit at Union Station. More than 800 feet of track makes up the display of 18 running trains and a 15-foot, 3-D lighted Kansas City Southern Rudy train engine. FREE viewing Nov. 23-Dec. 29, 2019.
Mini Holiday Express Train at Union Station
Nov. 23 – Dec. 29, 2019
This miniature train was once a fixture at the Jones Store in downtown Kansas City. The Mini Holiday Express Train now delights little ones with rides at historic Union Station. Rides are $5 per kid. Union Station members are FREE.
Union Station Location and Parking
Union Station is located at 30 West Pershing Road in Kansas City, Missouri.
Parking is available in two nearby lots and a parking garage. Rates range from $5-$15. You can also ride the KC Streetcar. There's a stop right in front of Union Station.
Feeling merry and bright? Check out our other holiday posts:
Kansas City Holiday Events & Activities 2019
Best Holiday and Christmas Light Displays in Kansas City
Kansas City Christmas Tree and Holiday Lighting Ceremonies
Polar Express, Santa Trains and Christmas Train Rides in Kansas City
Kansas City Holiday Markets, Bazaars, Craft Shows and Boutiques
Where to Visit Santa in Kansas City
Classic Holiday Movies at Theaters in Kansas City
Holiday Shopping Gift Card Bonus Offers
Christmas Pop-Up Bars in Kansas City Deliver Cheerful Cocktails
Kansas City Restaurants Open on Thanksgiving
Subscribe to our FREE daily newsletter to be notified of all the FREE Kansas City events and deals. Sign up here.
More Kansas City Holiday Events
More FREE and Cheap Fun in Kansas City
Best FREE or Cheap Things to Do in Kansas City
Always FREE Things To Do in Kansas City
FREE & Cheap Things To Do With Kids in Kansas City
Find FREE and Cheap Things To Do in Kansas City By Day With Our Calendar