Santa and his elves are riding into Kansas City for a five-day visit on the Kansas City Southern Holiday Express train.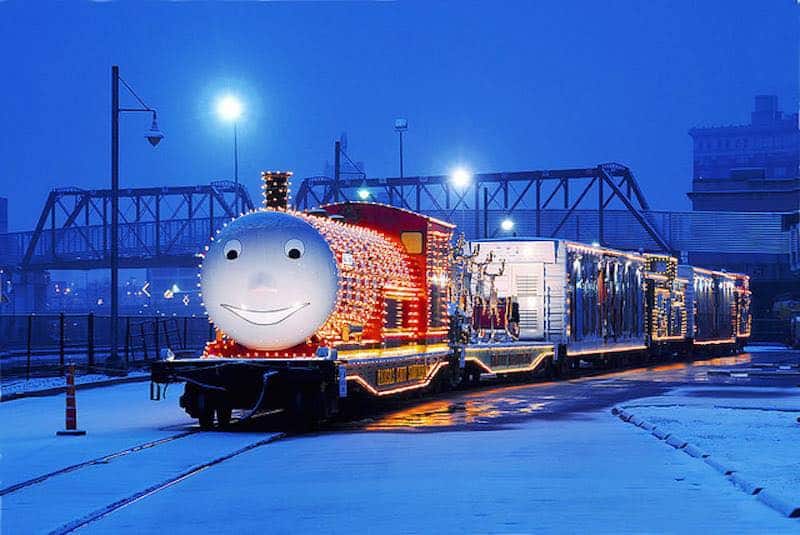 The beloved holiday train makes a stop at Union Station December 14-18 for walk-through tours, walk-around visits and photo opps.
This year, Holiday Express includes Rudy the smiling tank engine and cars with intricate displays inside and out.
Unlike previous years, walk-through tours are available for one day only on December 17. Registration is required and opens September 22. Details are below.
While walk-through tours are limited to one day, the Kansas City Southern Holiday Express train is at Union Station for multiple days for walk-around visits and photo opportunities.
KC Southern Holiday Express Walk-Through Tours
KC Southern Holiday Express walk-through tours are available to the public on Saturday, December 17, from 10 a.m. to 7:30 p.m.
Reservations are required for Holiday Express walk-through tours.
Walk-through tour reservations are FREE and available on a first-come basis. Reservations are accepted starting at 8 a.m. September 22.
Reserve Holiday Express Tickets Here
Santa will not be on the Holiday Express train during walk-through tours. Instead, he can be found roaming about and visiting with guests as they wait to enter the train on December 17.
For walk-through reservations, entry for the train is through the outdoor Haverty Family Yard.
KC Southern Holiday Express Walk-Around Visits & Photo Ops
The Holiday Express train is also available to the public for outdoor viewing and photo ops on designated days. Walk-around visits give guests the opportunity to enjoy Rudy and the decorated rail cars and take those treasured holiday photos, just not walk through the interior
No reservations are required for these visits, and it is FREE to attend. Holiday Express walk-around tours and photos ops are available:
Wednesday, December 14
Thursday, December 15
Friday, December 16
Saturday, December 17
Sunday, December 18
For walk-around visits, the Holiday Express is accessible on the tracks immediately west of Union Station, adjacent to our Havery Family Yards and West Yard Parking garage.
This is an outdoor event so dress warm.
Union Station Location & Parking
Kansas City City Southern is a transportation holiday company headquartered in Kansas City, MO.
The Holiday Express returns to the rails at Union Station located at 30 West Pershing Road in Kansas City, MO.
Parking is available in two nearby lots and a parking garage. Rates range from $5-$15.
You can also ride the KC Streetcar. There's a stop right in front of Union Station.
Subscribe to our FREE daily newsletter to be notified of all the FREE Kansas City events and deals. Sign up here.
Holiday Model Rail Exhibit at Union Station
If you love trains don't miss the holiday model rail exhibit at Union Station. More than 800 feet of track makes up the display of 18 running trains and a 15-foot, 3-D lighted Kansas City Southern Rudy train engine. FREE viewing Nov. 23-Dec. 29, 2019.
Mini Holiday Express Train at Union Station
Nov. 23 – Dec. 29, 2019
This miniature train was once a fixture at the Jones Store in downtown Kansas City. The Mini Holiday Express Train now delights little ones with rides at historic Union Station. Rides are $5 per kid. Union Station members are FREE.
Kansas City Holiday Express Hours
Dec. 18: 2 p.m. to 7:30 p.m.
Dec. 19: 11 a.m. to 6 p.m.
Dec. 20: 11 a.m. to 5 p.m. (a special session for Union Station Member is from 6 p.m. to 8 p.m.)
Dec. 21 and 22: 10 a.m. to 7:30 p.m.
The line for the Kansas City Holiday Express closes 30 minutes before the close of the day.