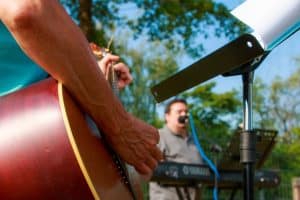 Every third Friday in July and August, the City of Merriam invites you to their Rock'n Party in YOUR Park nights. Admission is FREE.
Bring the family, lawn chairs, and blankets. Food, music, and fun will be provided. Activities include music concerts by local musicians, games, face painting, and inflatables in a different park each month.
Schedule
Friday, July 20, 2018
Quail Creek – 7024 Grand Avenue
Concert featuring "JAB" (country/rock)
Friday, August 17, 2018
Campbell Park – 9674 West 61st Street
Concert featuring "Salted Blue" (R&B/rock)
The Rock'n Party in Your Park nights will take place from 6:30-8:30 p.m (July) and 6-8 p.m. (August) in Merriam, Kansas.