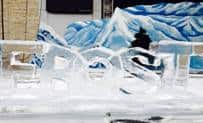 This Saturday, January 31, 2015, the Kansas City Power & Light District is holding its annual Frost Festival at KC Live! Admission is free. You must be 21+ For $15, you can buy an All-Access Pass that'll get you free cover, two drink tickets, and drink specials all night at 12 participating venues.
This event, which starts at 7:00 p.m., will feature ice bars, fire pits, ice luges, live ice carvings, fire eaters, s'mores, a Leinie Lodge, a Bailey's hot chocolate bar, and more.
The Power & Light District is located across from the Sprint Center in downtown Kansas City, Missouri.