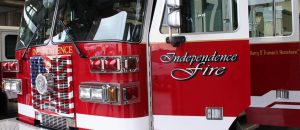 This Saturday, June 24, 2017, Independence 76 Fire Company is hosting Firefest 2017 at the Silverstein Eye Centers Arena Parking Lot. Admission is FREE.
This event includes a classic car, truck, and tractor show; emergency vehicle displays; muster games; door prizes; a water display; a raffle; kids' games, and more.
For a small $1 donation, you can take a ride in a 1960 Seagrave Fire Engine around the parking lot.
My kiddos have enjoyed this fun event since they were itty bitties. I recommend your kids wearing swimsuits under their clothes in case they decide to get soaked under the giant fire hoses.
Firefest 2017 hours are from 9 a.m. – 3 p.m.
The Silverstein Eye Centers Arena is located at 19100 East Valley View Parkway in Independence, Missouri.
Silverstein Eye Centers Arena
19100 E Valley View Parkway
Independence, MO 64055
(816) 442-6100