Grab a basket because Easter Egg Hunts are springing up in Kansas City. Please double check all times, dates, and locations to verify details.
In addition to local Easter egg hunts, we've rounded up a lot of other egg-cellent Easter events for the whole family, including some Easter Bunny picture opportunities.
This year, Easter is on Sunday, April 9, but there are a lot of egg hunts and other family-friendly springtime events happening in Kanas City before then. We've gathered them together here so you can easily see what's available each week.
Visits with the Easter Bunny shouldn't require you to break into your piggy bank. Some of these may require a charge, but we've tried to include mostly FREE or cheap Easter fun activities you can find all around Kansas City.
If you know of any Easter egg hunts or other activities we've missed or your organization is hosting an egg hunt, send us a note at news@kansascityonthecheap.com and we'll add them as time allows. There is no charge to be included in our roundup of Easter Egg Hunts and Events in Kansas City.
2023 Kansas City Easter Egg Hunts & Events
You know how weird springtime weather in Kansas City is, so double-check any of these Easter activities before you head out to make sure nothings has changed at the last minute.
Grab your Easter basket and go!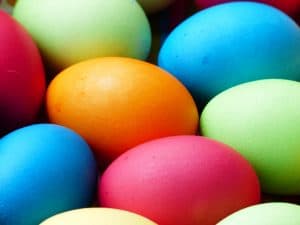 Plaza Bunnies: The Easter bunnies are back on the Country Club Plaza this spring. Enjoy the colorful transformation of larger-than-life bunny sculptures that dot the Plaza's courtyards and sidewalks. Each Plaza bunny has a name – Peter, Nicholas, Lee, Kate, Ellyn, Bess, Amy, Sue Brian, and Harold – and make great photos buddies for all ages.
Breakfast with the Easter Bunny: The Strawberry Hill Museum and Cultural Center hosts this "Dot" family favorite from 8:30 – 10:30 a.m. Visits and photo opportunities with the Easter Bunny are part of the fun. Buy tickets online.
Antioch Southern Baptist Easter Egg Hunt: Bring your own basket for this FREE Easter Egg Hunt at Antioch Southern Baptist Church in Harrisonville, MO. The party is from 9 a.m. to 11 a.m.
Peculiar Parks & Rec Easter Egg Hunt: Bring your own basket and your own camera.
Knox Church Egg Hunt: Join for an Easter story reading, music, photos, and an Easter Egg Hunt at Knox Church in Overland Park from 10 to 11 a.m.
Leawood United Methodist Easter Egg-Stravaganza: Leawood UMC hosted a family-friendly Easter celebration at the church in Leawood, KS beginning at 10 a.m. This is geared for children ages 1-11. Activities include Easter egg hunts (by age group), crafts, games, a photo booth, and more. Registration is highly encouraged for planning purposes.
Easter Egg-Stravaganza in Blue Springs: If you haven't made plans for Easter fun, you're in luck Pre-registration is NOT required for Easter Egg-stravaganza. This FREE event happens from 9 to 11 a.m. at Rotary Park in Blue Springs. Hop over for crafts, yard games, vendors and a chance to get a picture with the Easter Bunny. Egg hunt is at 10 a.m. so bring a basket!
Easter Block Party & Egg Hunt: Meet up at Second Presbyterian Church in Kansas City, MO for a FREE, family-friendly Easter block party and Easter egg hunt from 10:30 a.m. to noon. In addition to hunting eggs, attendees can enjoy candy, a petting zoo, face painting and food trucks.
Fairway Egg Hunt: The 2023 Fairway Egg Hunt is back at Peterson Park in Fairway, KS. This FREE Easter event includes egg hunts for different age groups. The first hunt begins at 2:30 p.m. No registration needed, just bring your Easter basket.
Raymore Easter Festival: Kids in the fourth grade and younger can scramble to hunt 15,000+ eggs at the annual Raymore Easter Festival. This FREE event is held at Recreation Park, 1011 S. Madison Street, at the baseball fields. Arrive by 9:45 a.m. with your own basket. The hunt begins at 10 a.m. Afterwards enjoy refreshments and photos with the Easter Bunny.
Downtown Bunny Hop: There is an Easter parade happening in Downtown Lee's Summit this year. Families can line up at 9:45 a.m. at City Hall Plaza for a stroll down to Howard Station Park. Bring your camera for take-your-own pictures with the Easter Bunny. Downtown businesses will hand out candy following parade so bring an Easter basket for collecting the goodies.
Zona Rosa Spring Celebration: There are plenty of family-friendly activities at this FREE celebration from 10 a.m. to 2 p.m. at Zona Rosa shopping center in the Northland, including take-your-own photos with the Easter Bunny. See details here.
Grace Church Easter Egg Hunt – Overland Park: The community is invited to a FREE Easter Egg hunt at Grace Church North Overland Park Campus. Thousands of eggs will be hidden, just bring your own Easter Basket. The Easter Egg hunts are from 10:15 a.m. to noon and are broken up by age group. The day starts off with a sensory-friendly Easter Egg hunt for those who do better with that kind of setting.
Grace Church Easter Egg Hunt – Olathe: The Olathe location of Grace Church is hosting an Easter Egg Hunt and other activities on the Olathe campus from 10:30 a.m. to noon. Bring your own basket to collect goodies and enjoy inflatables and games at this FREE community event.
Peace Church Easter Egg Hunt : Community members are invited to join the Peach Church congregation for an Easter Egg Hunt from 1:00 p.m. to 2:30 p.m. at Porter Park in Prairie Village, KS. This is a FREE event.
Mission Bunny Eggstravaganza: This Easter holiday event includes fun for the whole family. Bring your camera to capture memories from the FREE Bunny Eggstravaganza at Broadmoor Park in Mission, KS.
If you're not already a Kansas City on the Cheap email subscriber, subscribe now so you never miss a deal. Also, make sure you follow us on Facebook and Twitter.
Ernie Miller Nature Center
Roeland Park Community Center
Recreation Park
Raymore, MO
Grandview, MO
Grandview, MO
Prev

1
2
3
4
5
6
7
8

Next