Everyone appreciates FREE food, even if it requires a little "moo"-tivation to get it.
For the 15th year, Chick-fil-A is counting it. On Cow Appreciation Day, July 9, visit any participating location dressed as a cow (Longhorn, Dairy, Hereford…it's your choice) and receive a FREE entrée. (Mobile orders are not eligible.)
Choose from a breakfast, lunch or dinner entrée. (Salads are excluded.) For a full list of qualifying entrées, click here and review "Which entrées can be redeemed?"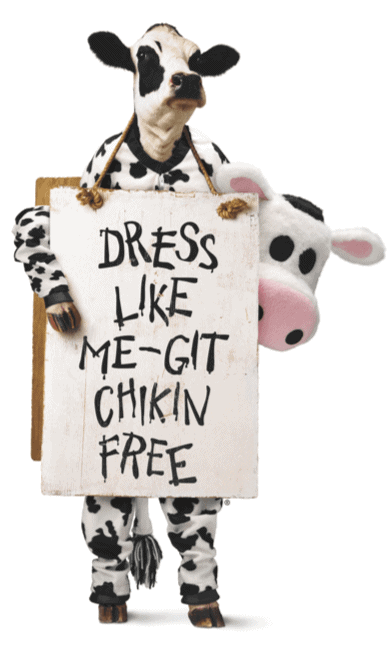 The bovine bargain is available from opening until 7 p.m. Anyone wearing anything cow-like will receive an entrée. Kids dressed like a cow may select a Kid's Meal.
There's a small herd of Chick-fil-A restaurants in Kansas City (about a dozen, more if you include Lawrence, KS). To find your nearest Chick-fil-A, click here for locations.
Deals may not be valid at every location, so be sure to ask before you order.
The post, Moo! Dress like a cow for free entrée at Chick-fil-A, first appeared on Living on the Cheap. Used here by permission.
Like to eat?  Be sure to check out these other KC area food deals.