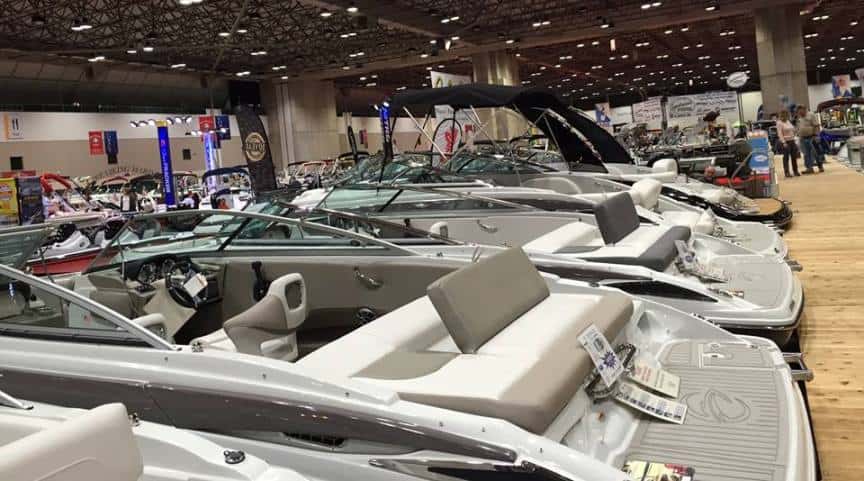 All aboard for the region's largest indoor gathering for boating and outdoor enthusiasts showcasing boats, outdoor gear and marine accessories.
The 2020 Kansas City Boat & Sportshow will be held Thursday through Sunday, January 9-12, 2020, at Bartle Hall.
This year's event features more than 300 new boats to board and buy, from fishing boats and pontoons to water sport boats and luxury vessels. A variety of hands-on, family-friendly activities will also be on deck, including the new Paddle Sports Pool where attendees can get their feet wet boating aboard a variety of paddle boards and kayaks.
2020 Kansas City Boat & Sportshow Admission
Buy Kansas City Boat and Sportshow tickets early and save.
Through Jan. 8, 2020, adult admission is only $10. Kids 12 and under are FREE when accompanied with a paid adult admission. The ticket covers many fun, hands-on features at the show.
Tickets after Jan. 8, are $12 per person.
Get a top deck bargain on Thursday, Jan. 9. You can get into the show for just $5 after 5 p.m. This offer is only good after 5 p.m. on the first day of the show.
2020 Kansas City Boat & Sportshow Highlights
Whether you're looking for family fun to escape cabin fever, or are seriously in the market for new boat and fishing gear, the Kansas City Boat and Sportshow has something for everyone. Show highlights include:
Paddle Sports Pool: attendees can get their feet wet checking out demos and testing a new Hobie or Jackson Kayak. Seminars and open paddle times will be posted on-site.
Career Day: students and job seekers can get career advice and hear about job openings from marine business professionals on Friday, Jan. 10.
The Show Me Stage: show attendees can hear from fishing experts and watch fishing and casting demonstrations.
Fred's Shed: back by popular demand, this part of the show offers do-it-yourself enthusiasts and boat owners the chance to hear professional, practical advice on maintaining, repairing and upgrading your boat or motor.
Boats & Brews: featuring live music, craft beer tastings and more on Friday, Jan. 10 from 5 p.m. to 9 p.m. Tickets will be available online.
The Hawg Trough: a 5,000-gallon, fully stocked fishing demo tank with seminars from pro anglers – a chance to see firsthand how fish react to various rods and bait.
KC Food Truck Mafia: serving up tasty, unique fare inside of Bartle Hall during the show from a variety of local food trucks.
Willow Creek Trout Pond: little ones can practice their angling skills for free, reeling in live trout.
2020 Kansas City Boat & Sportshow Hours
Show hours this year are:
Thursday: 2 to 9 p.m.
Friday: noon to 9 p.m.
Saturday: 10 a.m. to 9 p.m.
Sunday: 10 a.m. to 5 p.m.
2020 Kansas City Boat & Sportshow Location and Parking
Bartle Hall is located at 301 West 13th Street in Kansas City, Missouri.
There is usually a limited amount of FREE street parking downtown. Parking can be found at nearby parking garages for varying rates.