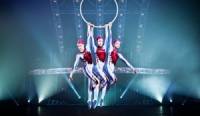 Here are a couple of new discounts from ScoreBig. Through December 31, 2012, the promo code KANSASOTC20 will get you a $20 discount on an order of $75 or more. Current deals include tickets to Cirque du Soleil: Quidam, Kansas City Chiefs tickets, and KU Jayhawks tickets.
Even without these promo codes, you can get a discount of up to 50% when you buy tickets from ScoreBig. ScoreBig offers discounted tickets to sporting and entertainment events nationwide. They're not a ticket broker, but a company that works directly with venues, teams, and promoters to sell off excess tickets. It works sort of like the 'Name Your Own Price' option on Priceline.
Here's how it works:
Go to the ScoreBig site (or you can click on the individual event links above)
Sign up (it's FREE)
Select the event you want and where you want to sit.
Name how much you are willing to pay (you'll have to enter your credit card information at this time).
If your bid is accepted, you'll be notified instantly. Be sure to add any promo codes (see below) when you get to the checkout page.
If your bid is rejected, you can place a new bid.
Sometimes you'll get a counter offer, which you are free to accept or reject.
No additional fees are added. The amount of your accepted offer is what you pay. ScoreBig guarantees that all tickets are at least 10% below retail and all tickets are 100% guaranteed.
Here are the promo codes:
HOOPS30 will get you a 30% discount on the ticket's face value. You can only use this code once per account, so save it for when you're not already getting a substantial discount.
15OFF30SB will get you a $15 discount on orders of $30 or more.
SB10 (for new members only) will get you an extra 10% discount on your purchase.
ScoreBig is an advertising partner of Kansas City on the Cheap.