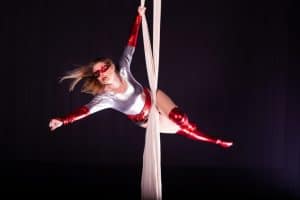 City Stage presents MASKED! A Superhero Love Story on April 12-14, 2019. Advance discount tickets are $20 ($25 at the door). Children 7 and under are $10.
According to their website: "MASKED! plays homage to classic comics through aerial dance and acrobatics. In the midst of this dramatic battle of super-humanity, a hero and villain fall in love. Superheroes fly on trapezes, villains battle on silks, and citizens tumble through the city in their everyday lives. Best of all, the action is held together by a narrative story of love and friendship suitable for all ages. The incredible feats of the performers will have you wondering if they really do have superpowers."
Showtimes are 7:30 p.m. on Friday and Saturday, and 2:30 p.m. on Sunday.
City Stage is located inside Union Station at 30 West Pershing Road in Kansas City, Missouri.