Andy's Frozen Custard is celebrating the grand opening of its newest Kansas City store on Friday, Oct. 11 with $2 regular size, one topping sundaes, all day long at the new location.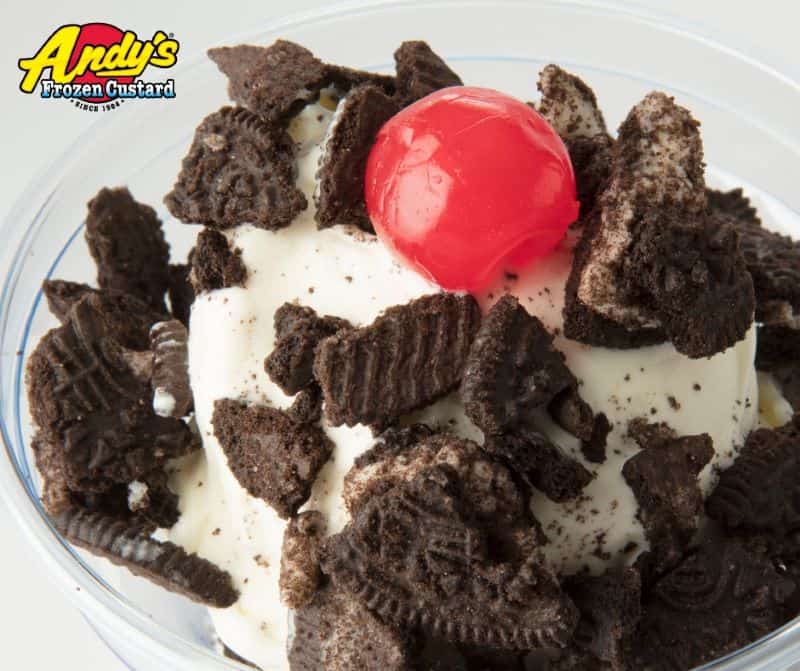 The newest store, a prototype of sorts for future Andy's stores, is located at 10641 State Line Road, Kansas City, MO, 64114. The $2 sundaes are only available at this location. The new store hours are:
Monday – Thursday: 11 a.m. to 11 p.m.
Friday – Saturday: 11 a.m. to 11:30 p.m.
In addition to this great sundae deal, Andy's is hosting an official grand opening ceremony at 1 p.m. and will present a $4,000 donation to Children's Mercy Hospital of Kansas City.
This dessert-only franchise has ties to the Show-Me State. The first Andy's opened in 1986 in Osage Beach, Missouri. According to their website, the novelty of their frozen custard became legendary around Lake of the Ozarks and then moved on to amaze residents of Springfield, Missouri, before expanding to 84 locations in 13 states.
Local Andy's Frozen Custard Locations
Even if you can't make it to the newest Andy's for the sundae deal, their frozen custard is so good you should treat yourself at one of the other Kansas City locations:
10816 Shawnee Mission Pkwy
Shawnee, KS 66203
(913) 444-6909
9535 Metcalf South
Overland Park, KS 66212
913-318-3200
1200 Westport Rd
Kansas City, MO 64111
(816) 531-3300
598 NE State Route 291
Lee's Summit, MO 64063
(816) 524-5554
1000 NW Highway 7
Blue Springs, MO 64014
(816) 229-2300
More Kansas City Food and Drink Offers
Sunday, October 17, 2021
Monday, October 18, 2021
Tuesday, October 19, 2021
Wednesday, October 20, 2021
Thursday, October 21, 2021
Friday, October 22, 2021
Saturday, October 23, 2021
Sunday, October 24, 2021
Monday, October 25, 2021
Tuesday, October 26, 2021
Wednesday, October 27, 2021
Thursday, October 28, 2021
Friday, October 29, 2021
Saturday, October 30, 2021
Sunday, October 31, 2021
Monday, November 1, 2021
Tuesday, November 2, 2021
Wednesday, November 3, 2021
Thursday, November 4, 2021
Friday, November 5, 2021
Saturday, November 6, 2021
Sunday, November 7, 2021
Monday, November 8, 2021
Tuesday, November 9, 2021
Wednesday, November 10, 2021
Thursday, November 11, 2021
Friday, November 12, 2021
Saturday, November 13, 2021
Sunday, November 14, 2021
Monday, November 15, 2021