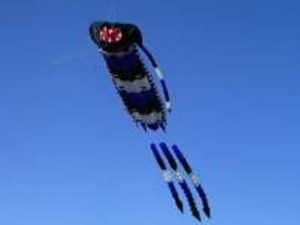 On Saturday, April 15, 2017, the Kansas City Kite Club is holding its annual Flights of Fancy Kite Festival. Admission is free.
The festival includes mega kites, power kites, stunt kites, and the world's largest windsock – three stories high and 200 feet long. You're also welcome to bring your own kites to fly. For kids there's an inflatable maze, face painting, a balloon artist and a candy drop. Food and drinks will be available for purchase.
The festival, which runs from 10:00 a.m. to 5:00 p.m., is on the grounds of the MCC Longview campus at 500 SW Longview Rd. in Lee's Summit, Missouri.