After a long week you can treat yourself to a sweet freebie at Dunkin'.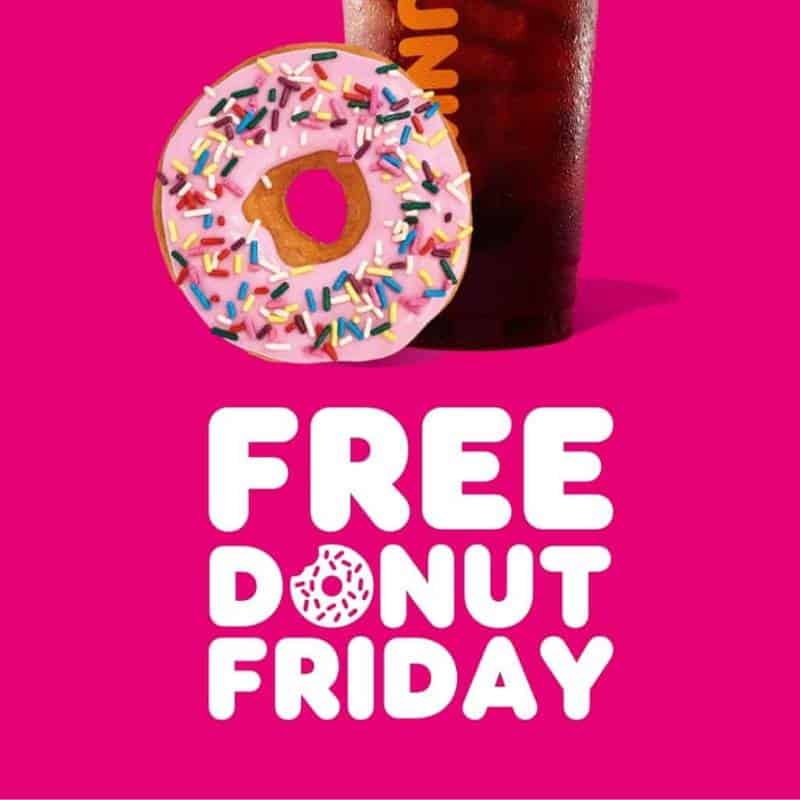 On select Fridays August, DD Perks members enjoy a FREE donut with any drink purchase (excluding espresso shots) at participating locations. Members are eligible for one complimentary donut with each drink purchased. Customers can enjoy favorites, such as Boston Kreme, Glazed, Glazed Chocolate, Strawberry Frosted with Sprinkles and more, including the donut shop's limited-time flavors.
In addition to donuts, the shop offers a full lineup of espresso beverages, including Lattes, Macchiatos and Cappuccinos, a range of frozen beverages, premium teas (hot and iced), sandwiches and baked goods.
You must be a member of its loyalty program for the offer. (If you're not a member, sign-up here.)
Mark your calendar for August 7, August 14 and August 21.
Free Coffee on Mondays
On select Mondays in August, Perks members will get a FREE medium cup of the brand's renowned hot or iced coffee, with the purchase of any Dunkin' food item.
Free Coffee Mondays begin on Monday, August 3 and will continue on August 10 and 17.
The deals are good at participating Dunkin' restaurants nationwide. Find your closest Dunkin' Donuts here.
NOTE: Not all locations offer the same national promotions. As a result, price and participation may vary. It's always wise to call ahead for verification in your area. We strive to keep up with "limited-time offers," but deals may end without notice.
More Kansas City Food and Drink Deals
Saturday, November 27, 2021
Sunday, November 28, 2021
Monday, November 29, 2021
Tuesday, November 30, 2021
Wednesday, December 1, 2021
Thursday, December 2, 2021
Friday, December 3, 2021
Saturday, December 4, 2021
Sunday, December 5, 2021
Monday, December 6, 2021
Tuesday, December 7, 2021
Wednesday, December 8, 2021
Thursday, December 9, 2021
Friday, December 10, 2021
Saturday, December 11, 2021
Sunday, December 12, 2021
Monday, December 13, 2021
Tuesday, December 14, 2021
Wednesday, December 15, 2021
Thursday, December 16, 2021
Friday, December 17, 2021
Saturday, December 18, 2021
Sunday, December 19, 2021
Monday, December 20, 2021
Tuesday, December 21, 2021
Wednesday, December 22, 2021
Thursday, December 23, 2021
Friday, December 24, 2021
Saturday, December 25, 2021
Sunday, December 26, 2021