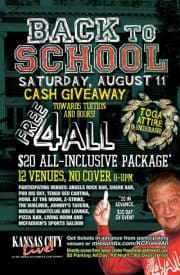 This Saturday, August 11, 2012, 12 venues in the Kansas City Power & Light District are holding a Back-to-School Free4All. Tickets are $20 if you buy them in advance, $30 the day of the party. You must be 21+.
Your Free-for-All pass includes entrance to all of the venues, drinks (well drinks, draft beer, and Malibu Spolioli), and cash giveaways. Togas are encouraged.
Participating venues include the KC Live! Living Room, McFadden's Sports Saloon, Pizza Bar, Shark Bar, Johnny's Tavern, Howl at the Moon, PBR Big Sky, Angels Rock Bar, Mosaic Lounge, The Dubliner, Z-Strike, and Tengo Sed Cantina.
The party runs from 8:00 to 11:00 p.m.
The Power & Light District is located across from the Sprint Center in downtown Kansas City, Missouri.