Everyone will definitely be buzzing with excitement (and caffeine) on National Coffee Day, September 29, 2021.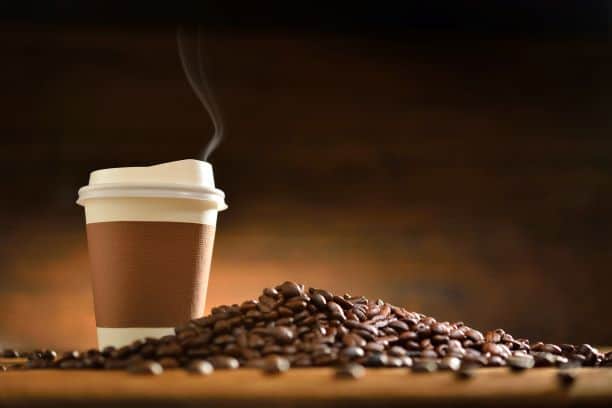 Every year, several businesses offer free coffee, or special coffee deals. As we hear about deals for National Coffee Day 2021 around Kansas City, we will post so you can get your caffeine craving free or cheap.
Check back here because these kinds of deals tend to show up at the last minute. If you know of any we missed, especially from local coffee shops, drop us a note at info@kansascityonthecheap.com.
Coffee Talk: Interesting Facts
The National Coffee Association and The Specialty Coffee Association of America conduct annual surveys regarding coffee consumption each year. Here are some interesting statistics for 2021:
Coffee drinkers in the U.S. consume an average of 3 cups of coffee per day.
The average price3 for brewed coffee in the U.S. is $2.38 a cup.
Most coffee drinking happens during the morning hours (65%), followed by 30% between meals and the remaining 5% with other meals.
35% of coffee drinkers in the U.S. prefer black coffee. The remaining 65% add cream and/or sugar.
Kansas City National Coffee Day Deals 2021
Here's a list of what's percolating (so far) in Kansas City on this annual holiday.
On National Coffee Day, local KC coffee shop Cafe Cà Phê is giving away its crowd-favorite latte – the "Open Sesame!" Latte. The beverage is FREE between 10 a.m. and 3 p.m. "Open Sesame!" Lattes are made using a special key ingredient: Hope & Sesame Chocolate Hazelnut sesamemilk, an award-winning plant milk that adds an Asian flavor profile to the classic latte.
The first 100 guests to arrive during the above time slot, will also receive a FREE 1-liter carton of Hope & Sesame Organic Chocolate Hazelnut sesamemilk.
Bring the kids because there is a FREE Magic Milk beverage just for them. This special beverage is made with steamed Hope & Sesame Chocolate Hazelnut sesamemilk + extra chocolate).
Magic Milk and "Open Sesame!" Lattes are available September 29 while supplies last, first come, first served!
This National Coffee Day event takes place outside at Cafe Cà Phê's summer/fall residency at the Sequence Climbing Gym in the Crossroads (1717 Washington Street, Kansas City, MO).
Interesting Facts: Cafe Cà Phê is Kansas City's first woman-owned Vietnamese coffee shop. Owner Jackie Nguyen will be onsite at the event making lattes with her team. Also, Jackie was an actress in the U.S. tour of Miss Saigon!
If you're looking for convenience on National Coffee Day, you can find a 7-Eleven store just about anywhere. The chain is celebrating the day with two deals on Sept. 29.
7Rewards loyalty members get a FREE any size hot coffee, including the chain's new Fall Pumpkin Coffee and Pumpkin Spice Latte, with the purchase of a baked good.
If you prefer the comfort of home, customers can also enjoy a FREE extra large hot coffee with any purchase through 7-Eleven Delivery via the 7NOW app.
Get your coffee delivered right to your front door, thanks to Amora Coffee. Join the coffee company's monthly subscription program and get your first bag for just $1. Even better, shipping and handling are included. Your total satisfaction is guaranteed. You can cancel your subscription at anytime without any obligation.
After launching a new breakfast lineup earlier this month, including fresh bean-to-cup coffee, Casey's is celebrating National Coffee Day at its more than 2,200 locations. The new on-demand brewing process promises customers a fresh-brewed cup every time.
The convenient store chain is offering a FREE small coffee with any purchase using Casey's Rewards — from Sept. 26 to Oct. 2.
Circle K looks forward to celebrating the buzzworthy holiday of National Coffee Day on September 29 by offering customers a free cup of hot or iced coffee. Customers can Text "FREE" to "31310" to receive a digital coupon for a free cup of coffee to redeem only on Wednesday, September 29, at participating Circle K stores.
In addition to Circle K's original freshly ground coffee, the convenience store will embrace the fall spirit with a variety of cozy seasonal coffee flavors such as Harvest Spice Coffee and Pumpkin Spice Cappuccino that guests can redeem as a part of the promotion on National Coffee Day.
Celebrate the day at Caribou Coffee. Join the chain's loyalty program, Caribou Perks, and earn a FREE beverage (any size), after your first visit. Earn two points per $1 you spend on beverages, food, beans and merchandise. Plus, members get the most and best offers.
Enjoy 25% off all orders from Community Coffee. Use code SEP25 at checkout.
All day on National Coffee Day, Wednesday, September 29, Dunkin'is is offering DD Perks members a FREE medium hot or iced coffee with any purchase.
The FREE medium hot or iced coffee includes Dunkin's Original Blend or Dunkin's Limited Batch Series coffees, 100% Guatemalan Hot Coffee or Dunkin' Midnight Hot Coffee. Dunkin' loyalty members can pair their free coffee perk with a purchase of one of the latest fall favorites, including a Pumpkin Donut or MUNCHKINS Donut Hole Treats, a Pumpkin Muffin or an Apple Cider Donut, as well as the rest of the Dunkin' beverage and menu items available.
For anyone not already a DD Perks® member, they can receive their first perk as soon as the simple signup is complete. New Dunkin' loyalty members can quickly create an account on the Dunkin' app or online at DDPerks.com, and get one free medium hot or iced coffee with any purchase by scanning their loyalty ID at checkout, ordering ahead on the Dunkin' app or paying with an enrolled Dunkin' card on September 29.
The fine print on this offer is as follows: Coffee excludes Nitro Cold Brew and Cold Brew. Excludes gift card purchases. Offer valid September 29, 2021. Limit one free coffee per member. Offer not available on delivery platforms or through guest orders on the Dunkin' app.
Kansas City has several Dunkin' locations throughout the metro. Get directions to the one closest to you.
On National Coffee Day all Krispy Kreme customers receive a FREE coffee, no purchase necessary.
Krispy Kreme sweetens National Coffee Day even more for Rewards members with a FREE doughnut AND FREE brewed coffee.
Both offers are valid with carry out or drive-thru orders.
Kansas City Krispy Kreme Locations:
10390 Metcalf Ave
Overland Park, KS 66212
(913) 341-4643
8805 Shawnee Mission Parkway
Merriam, KS 66202
(913) 432-5944
7648 State Avenue
Kansas City, KS 66112
(913) 334-9428
National Coffee Day at Panera is dedicated to parents of all kinds. On September 29, simply let Panera know at the cashier or drive-thru that you're a parent or caregiver and you'll receive FREE coffee all day!
This FREE coffee all day is a taste of what it's like to have Panera's unlimited coffee subscription, available for $8.99/month.
To help make unlimited coffee easier to access throughout the day, Panera has created the Panera "Jump Start Jug", a gallon-sized bottle that can easily be transported around. September 23, through September 29, National Coffee Day, guests can go to jumpstartjug.com to enter for a chance to win 1 of 450 Jump Start Jugs. Full details here.
While Kansas City doesn't have any Peet's store locations in the metro, the coffee roasters have some buzzworthy deals for online orders.
Celebrate big with Peet's Coffee's National Coffee Day giveaway — from Sept. 22 to 29. Fans can enter to win a $2,000 gift card that can used at any of the chain's shops or online.
Plus, new Peetnik Rewards members get $5 off their purchase, when they download the Peet's app and enter promo code WELCOME at app registration. The offer ends Sept. 30.
Peet's Coffee has some online savings. Get 30% off your first shipment of a subscription sign-up. Shipping is FREE. Use code NEWSUB30 at checkout.
Sign up for Peet's email newsletter and get 10% off your first order along with FREE shipping.
Land at Pilot Flying J on National Coffee Day for a complimentary cup. Customers can choose from any size dispensed hot, iced or cold brew Pilot coffee for FREE. The offer is only available via the chain's myRewards Plus app.
With 11 different coffees and a variety of specialty creamers, syrups and toppings, customers can make each cup uniquely theirs at the travel center.
Smoothie King National Coffee Day
A cup of coffee doesn't count as a meal, but Smoothie King's Pumpkin Coffee High Protein smoothie does. The smoothie is made with cold brew coffee, organic pumpkin, dates, almonds, protein, seasonal spices and non-fat milk. In fact, the beverage has more than 1.5x the protein and about half the sugar compared to the popular Pumpkin Spice Latte available at one of the country's most popular coffee shops.
To celebrate National Coffee Day, they're offering FREE delivery on Sept. 29. Redemption is easy – just order via smoothieking.com or the chain's app. Plus, a $10 minimum purchase is required.
In celebration of Starbucks' 50th anniversary, the ultra-popular café is inviting customers to bring in a clean, empty, reusable cup (up to 20-oz.) on Sept. 29 to receive a FREE cup of Pike Place Roast brewed coffee. For safety reasons, Starbucks can only accept clean and empty reusable cups
The offer is available in cafés only, not in the drive-thru or ordered ahead in the Starbucks app. No refills or modifiers allowed. The offer is available on iced or hot brewed coffee only, not valid on cold brew or Nitro.
If you're a regular at Starbucks, be sure to join the chain's popular loyalty program, Starbucks Rewards. Members earn points for every purchase that can be redeemed for beverages, food, coffee beans and merchandise.
More Food and Drink Deals in Kansas City
Sunday, October 17, 2021
Monday, October 18, 2021
Tuesday, October 19, 2021
Wednesday, October 20, 2021
Thursday, October 21, 2021
Friday, October 22, 2021
Saturday, October 23, 2021
Sunday, October 24, 2021
Monday, October 25, 2021
Tuesday, October 26, 2021
Wednesday, October 27, 2021
Thursday, October 28, 2021
Friday, October 29, 2021
Saturday, October 30, 2021
Sunday, October 31, 2021
Monday, November 1, 2021
Tuesday, November 2, 2021
Wednesday, November 3, 2021
Thursday, November 4, 2021
Friday, November 5, 2021
Saturday, November 6, 2021
Sunday, November 7, 2021
Monday, November 8, 2021
Tuesday, November 9, 2021
Wednesday, November 10, 2021
Thursday, November 11, 2021
Friday, November 12, 2021
Saturday, November 13, 2021
Sunday, November 14, 2021
Monday, November 15, 2021